GXP® Virtual Training Center
If you're not a current customer, but would like to learn more about geospatial software solutions from GXP, please fill out the information below to stream a descriptive video of our capabilities.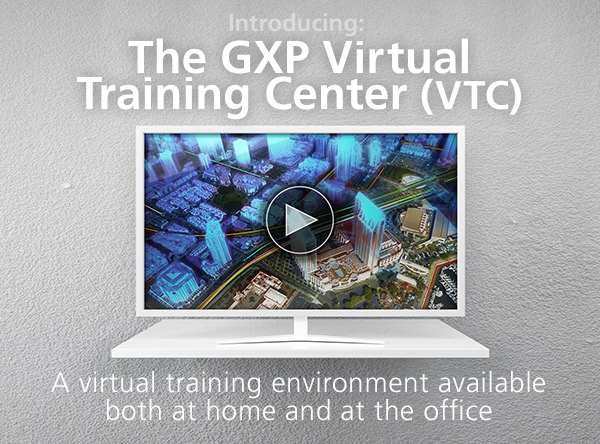 In order to meet the evolving needs of our customer base in the current environment, we are pleased to introduce software instruction from the GXP Virtual Training Center (VTC)! Available at work or home, the GXP VTC offers complimentary, web-accessible tutorials on the use of GXP software through a virtualized desktop (no installation required) for all current GXP customers.
Including new training videos, presentation content, and customized webinars for users with specific training needs, the GXP VTC supports the following products:
SOCET GXP®
GXP Xplorer®
GXP WebView®
GXP InMotion™
GXP Fusion®
TASS
Allowing users to view concise instructional videos while simultaneously performing functions within the software itself, the GXP VTC offering will enable comprehensive learning on a variety of geospatial topics through any web-connected laptop from the comfort of your own home.
For current GXP customers
A MyGXP Customer Portal account is required to access the GXP VTC. For those with existing portal accounts, please click here to access the Customer Portal and log in to the VTC. Once you've accessed the GXP VTC make sure to click on "Request Access to Virtualized GXP Applications" to start your training experience.
If you require access from home, we have included an additional email field in your MyGXP portal so that you may add your personal email to receive communications regarding the GXP VTC.
If you need to create a Customer Portal account, please click the orange button below, then click on "Request a MyGXP Customer Portal Account" and provide the requested information. A GXP Customer Technical Solutions (CTS) representative will then contact you to ensure you have everything you need.
Additional training content will be added to the GXP VTC on a regular basis moving forward, so please check in often to see what's new!