GXP OpsView® v2.5
Ensuring safety and security through advanced operational planning and incident response
Strategic planning and simplified communications with a Common Operating Picture (COP)
Whether for security operations, crisis response, or advance planning for an emergency situation, the GXP OpsView® software solution provides situational awareness and operational visibility through strategic planning tools, simplified communications, and a Common Operating Picture (COP).
Enables effective mission command
Enabling mission command to effectively coordinate field operators in real time throughout an operation, event, or crisis situation, the GXP OpsView solution provides:
Situational awareness and operational visibility through a Common Operating Picture
Visual representation of an operation or emergency action plan via Collaborative Response Graphics (CRG)
Real-time location sharing layered on top of the CRG
Field data uploads including photo files
Enhanced coordination and collaboration tools
Rapid tasking and deployment of field personnel
From an efficient dashboard view enabling strategic management of multiple operations, to a focused incident view supporting asset deployment and real-time communications, the GXP OpsView solution brings an unrivaled degree of command and control to operational planning and tactical response.
The GXP OpsView software solution provides critical planning and response support for:
Active assailants, terrorist attacks, and hostage situations
Emergency management and disaster relief
Wildland firefighting and prevention
Search and rescue operations
Drug Interdiction and high-risk warrants
Private security for corporate offices, industrial facilities, and events
Dashboard view for operations oversight
Providing a strategic view of your entire organization, the GXP OpsView Dashboard provides oversight into all active incidents in real-time while providing access to historical incidents for reporting, review, forensics, and training.
COP of all active incidents via list and map views
Content overlays on the map view via standards-based data sharing
Rapid identification of all responders and available resources
Simplified communication with field personnel
Strategic viewpoint for executing operational strategy across all activity
Incident Detail view for efficient response
The Incident Detail view allows users to drill down into a specific incident to see details regarding personnel, tasking, operation files and content, and communications.
Multi-layered CRG
Teaming tools for rapid execution of Incident Command best-practices
Real-time tracking with bread crumbs for previous asset location
Enterprise-wide sharing of incident data
Uploads of field data (including photos)
CRGs provide a common operating picture
CRGs provide a common operating picture and an accessible visual representation of an emergency action plan for all response personnel including:
Gridded Reference Graphics overlaid onto current site maps
Precise measurements of distance and elevation, degree of slope, and line of sight
Critical data including staging areas, evacuation zones, vantage points, hazards, and roadblocks
Real-time tracking of response personnel via mobile devices
Data-agnostic support for imagery registration and overlays onto the plan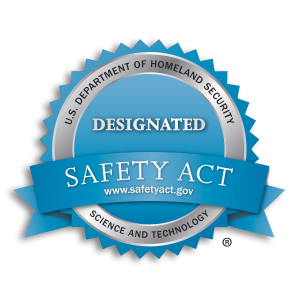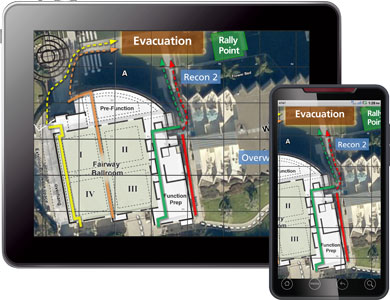 Collaborative Response Graphics provide a common operating picture and an accessible visual representation of an emergency action plan for all response personnel
Imagery courtesy of EagleView Technologies & Pictometry Intelligent Images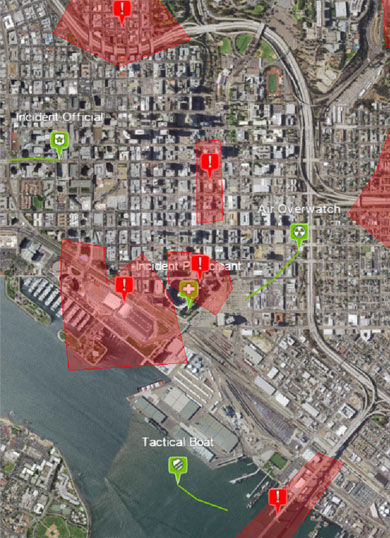 Imagery courtesy of Esri World Imagery