GXP Fusion®
Integrate information from multiple sources to answer complex intelligence questions
The GXP Fusion® software solution, which enables development of a multi-INT common intelligence picture, is designed to meet the complex data challenges confronting the modern all-source intelligence analyst.
Faced with a significantly increasing volume of information to discover and analyze, GXP® solutions enable analysts to fuse disparate sources into a multi-perspective view, allowing for delivery of insightful intelligence and enhanced situational awareness to key decision makers. Developed to support a seamless connection to current and future intelligence, the GXP Fusion solution functions as the central point for maximizing an organization's intelligence capabilities.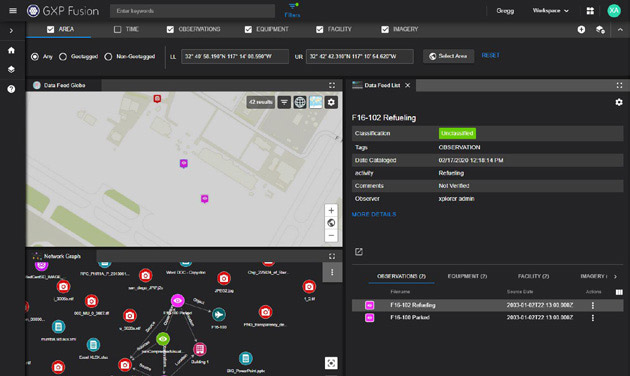 Customize views of information in GXP Fusion software.
Built on the GXP Xplorer® Platform, the GXP Fusion software solution enables users to:
Create activity-based automatic alerts on multi-source data to prioritize analysis
Provide a dashboard to increase operational awareness
Associate all spatio-temporal information in a single view through a browser-based, multi-source visualization tool
Connect to third-party systems and data sources via plug-ins
Provide data collection, consolidation, and discovery of multi-source information including open and closed source data
Spend less time sifting through data and more time analyzing data
Improve user workflow through automation based on a rule-based process engine, such as a watchbox and a trigger
Correlate various types of data to find and visualize related information
Integrate seamlessly with Structured Observation Management (SOM) workflows
Find hidden patterns and relationships in multi-source data
GXP Fusion software is designed for Department of Defense, Intelligence Community, and Law Enforcement personnel with big data challenges who want to gain insights via identification of hidden relationships and patterns in large volumes of data. GXP Fusion software empowers the analyst to make smarter decisions by tailoring their workflows and leveraging third-party Artificial Intelligence (AI) / Machine Learning (ML) technology while enjoying a seamless user experience:
Identify hidden patterns using interactive Data Analytics Charts
Find time phased activities using the Data Timeline Chart
View geotagged and non-geotagged data using the 3-D Globe and Data Feed List
Analyze additional observations collected from SOCET GXP® and GXP WebView® applications
Visualize complex relationships and patterns using the Network Graph
Unlock knowledge by fusing data based on location, time, and data attributes
The GXP Fusion DVR-like controls can isolate time range and provide a playback mode for forensic analysis, while intelligent filters can further isolate additional information as required. In addition, linked panels communicate in real time, and an extensible Widgets Gallery enables third-party customization.
GXP Fusion Download
The GXP Xplorer Platform download includes the latest v2.5 release of GXP Xplorer, GXP WebView, GXP InMotion Video Server, and GXP Fusion.
Each application is individually licensed and configured during installation.
Customers with an active MyGXP Customer Portal account and current Upgrade Entitlement can log in to download or request a media shipment: