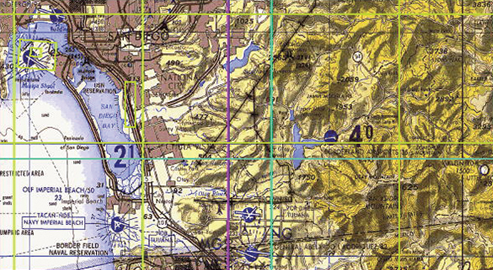 Show map footprints with the Visual Coverage Tool (VCT)
The Visual Coverage Tool is a geospatial data discovery, viewing, and management tool that shows footprints of all online and offline maps and images available on a network.
VCT data management
Data can be managed from a CD, DVD, or loaded to online storage. Users can access data from a variety of locations and sources and display footprints of the geospatial data displayed over SOCET SET® Controlled Image Base (CIB) format production module, which uses MIL-PRF-89041, May 15, 1995 format specifications, Compressed ARC Digitized Raster Graphics (CADRG), Vector Product Format (VPF), or World Maps.
The visual coverage graphical display allows easy selection for continued processing in the SOCET GXP® software solution, including image manipulation, enhancements, image and ground space annotations, product templates, Sensor Model Factory (SMF) mensuration, and NITF save with SPIA tags.
Benefits of the Visual Coverage Tool
Users can manage all image and vector files on a network
VCT plots all footprints to show coverage, which are color-coded by file type
VCT acts like a database management system
The Visual Coverage Tool keeps track of:

SOCET SET Digital Point Positioning Data Base (DPPDB) format production module, which uses MIL-PRF-89034, March 1999 format specifications (online and offline)
All 42 types of CADRG
All NITF imagery, color coding by sensor
Digital Terrain Elevation Data (DTED)
SOCET SET Controlled Image Base (CIB) format production module, which uses MIL-PRF-89041, May 15, 1995 format specifications
VPF, shapefiles
TIFF, Multispectral Imagery (MSI), and SOCET SET support files
Module information: Visual Coverage Tool