GXP Fusion:™ The convergence of advanced intelligence
Enabling development of a multi-INT common intelligence picture, GXP Fusion software is designed to meet the complex data challenges confronting the modern all-source analyst
Integrate information from multiple sources to answer complex data questions
Discover anomalies, hidden relationships and patterns of life
Customize dashboards to enable visualization of data across space and time
Deliver actionable insights to key decision‑makers
Data Analytics
Identify and illustrate data trends, patterns, and anomalies through a variety of charts and graphs.
Image Viewer
Visualize areas and objects of interest collected through both SOCET GXP and GXP WebView applications.
Map Viewer
Discover geotagged data by location using the 3-D Globe and Data Feed List.
Network Graph: Observation
Identify activities associated with people, places and things.
Network Graph: Equipment
Identify types of equipment and their association with people and places.
Network Graph: Country
The focus in this scenario is a specific country with associated people and locations, types of weaponry, and other observations.
Network Graph: Location
Identify specific locations and associated links to that location.
Text Analytics
Natural Language Processing (NLP) via Basis Rosette technology provides fast and effective text review and indexing to identify persons, organizations, locations, and more based on a customizable lexicon.
Timeline
Develop a comprehensive and chronologically organized timeline based on activities, locations, and imagery.
Text Analytics
Persons (3)
Kim Jong Un
Kim
Michael Elleman
Locations (5)
North Korea
Pyongyang
Korea
KN
South Korea
Organizations (10)
Korea Central TV
Korean Central News Agency
KCNA
Korean Peoples' Army
Korean People's Army
International Institute for Strategic Studies
IISS
Joint Chiefs of Staff
JCS
Yonhap News Agency
North Korea launched a series of short-range missiles in March, marking its first missile tests in 2020 and signaling Pyongyang's intent to follow through with Kim Jong Un…'s promise to possess a "new strategic weapons" in the near future. Kim announced North Korea would continue to develop "necessary and prerequisite strategic weapons" throught the year in his speech at a plenary meeting of the… 7th Central Committee of the Worker's Party of Korea, held Dec. 28-31.
Images released by Pyongyang's Korea Central TV confirm that the two short-range ballistic missiles launched on March 21 had similar features to the KN-24 missile last tested in August 2019. Kim oversaw the recent test, according to a March 22 statement in the state-run Korean Central News Agency (KCNA)
The statement said that the tested missile will "be delivered to [Korean Peoples' Army] units," which analysts have speculated may indicate the missile could soon be operational. In a statement a day earlier, KCNA reported the launches were part of an "artillery fire competition between large combined units of the Korean People's Army."
The launch came after weeks of successive short-range ballistic missile tests by North Korea following a Feb. 29 KCNA announcement that Kim had overseen a military drill intended to "judge the mobility and the fire power strike ability" of North Korea's Korean People's Army's defense units.
All the March tests appear to have been of short-range ballistic missiles, meaning they can fly less than 500 kilometers. Two missiles launched on March 2 bore some similarity to previous flight tests of North Korea's KN-25 short-range ballistic missile, according to Michael Elleman, a missile expert at the International Institute for Strategic Studies (IISS). A statement released on March 2 by South Korea's Joint Chiefs of Staff (JCS) via the Yonhap News Agency further identified "similarities in features between what it fired [March 2] and those launched last year."
North Korea also tested three projectiles on March 9, all of which were KN-25 missiles, according to recently released IISS assessments.
"North Korea is believed to be continuing its joint strike drill," said a senior South Korean JCS officer. Kim oversaw the March 9 launches and expressed "great satisfaction" and "highly appreciated the perfect combat readiness of the long-range artillery sub-units," the KCNA reported the following day.
Those tests came one day after the North Korean Foreign Ministry responded through the KCNA to a joint statement released by five UN Security Council members condemning the March 2 launches. "The reckless behavior of these countries instigated by the U.S. will become the fuse that will trigger yet another momentous reaction," the Foreign Ministry said.
After a March 5 meeting of the Security Council, Belgium, Estonia, France, Germany, and the United Kingdom urged North Korea to "engage in good faith in meaningful negotiations with the United States aimed at denuclearization" and to abandon "all weapons of mass destruction and ballistic missile programs in a complete, verifiable, and irreversible manner."
South Korea's presidential office said on March 9 that "North Korea continuing to stage joint massive artillery drills following those on Feb. 28 and March 2 does not help efforts to bring peace to the Korean peninsula."
Despite allies' mention of meaningful negotiations between the United States and North Korea, discussions on denuclearization and peacebuilding appear to remain stalled. (See ACT, March 2020).
Integrate information from multiple sources to answer complex data questions
Customized dashboard enabling visualization of data across space and time
Discovery of anomalies, hidden relationships, and patterns of life
Actionable data insights delivered to key decision-makers
Find hidden patterns and relationships in multi-source data
Analyze observations collected from GXP applications
Visualize complex relationships and patterns
Seamlessly connected to the GXP Xplorer® Platform
GXP Fusion delivers advanced capabilities for critical imagery, video, and all-source data workflows
Create activity-based automatic alerts on multi-source data to prioritize analysis
Provide a dashboard to increase operational awareness
Associate all spatio-temporal information in a single view through a browser-based, multi-source visualization tool
Connect to third-party systems and data sources via plug-ins
Provide data collection, consolidation, and discovery of multi-source information, including open and closed source data
Spend less time sifting through data and more time analyzing data
Improve user workflow through automation based on a rule-based process engine, such as a watchbox and a trigger
Correlate various types of data to find and visualize related information
Integrate seamlessly with Structured Observation Management (SOM) workflows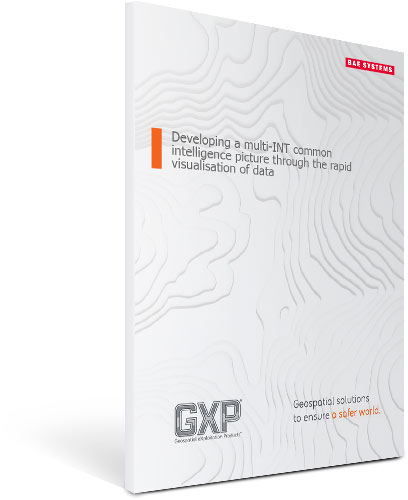 Download the GXP Fusion white paper
Addressing the complex data challenges that confront the modern all-source analyst